03
Apr
Joyce Jonathan China Tour 2019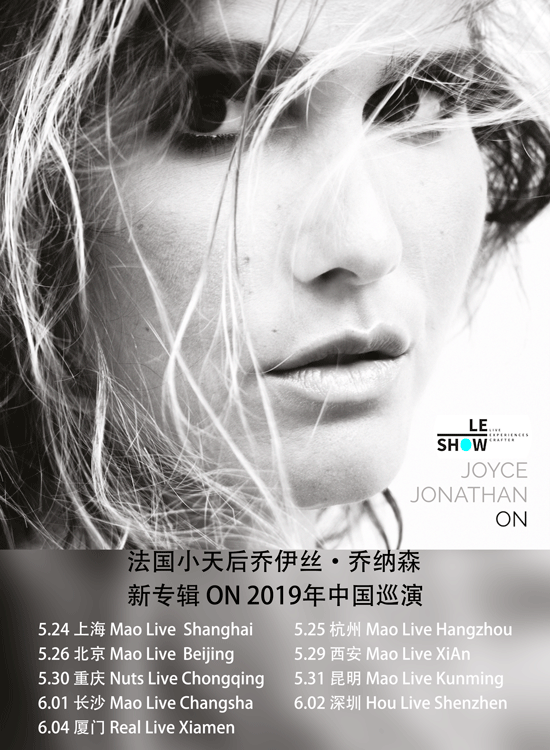 乔伊丝·乔纳森即2017年6月在全国巡演8场之后,为了更好的给她忠实歌迷们回报,一直以来专心制作她的新专辑。
如今她的新专辑《ON》终于在2018年年底发行,与此同时她当然不会错过与她的歌迷们分享新专辑的机会。
乔伊丝将于今年5月24日至6月4日在全国9个城市巡演,届时她将会更多地与到场的歌迷们互动,您甚至有机会被她邀请上舞台共舞《ON》!
Joyce Jonathan has been focusing on her new album after her last China tour in June 2017.
Now her new album《ON》is finally released at the end of 2018, and she certainly won't miss to share it with her Chinese fans.
Joyce will make a tour from May 24th to June 4th in 9 cities this time. She will interact more with her fans, and you might be the one invited to dance《ON》the stage with her!
售票链接/Ticketing:
5.24 上海 Mao Live Shanghai {[][][]}
5.25 杭州 Mao Live Hangzhou {[][][]}
5.26 北京 Mao Live Beijing {[][][]}
5.29 西安 Mao Live Xi An {[][][]}
5.30 重庆 Nuts Live Chongqing {[][][]}
5.31 昆明 Mao Live Kunming {[][][]}
6.01 长沙 Mao Live Changsha {[][][]}
6.02 深圳 Hou Live Shenzhen {[][][]}
6.04 厦门 Real Live Xiamen {[][][]}