09
May
Joyce Jonathan 2017 ASIA Tour CHINA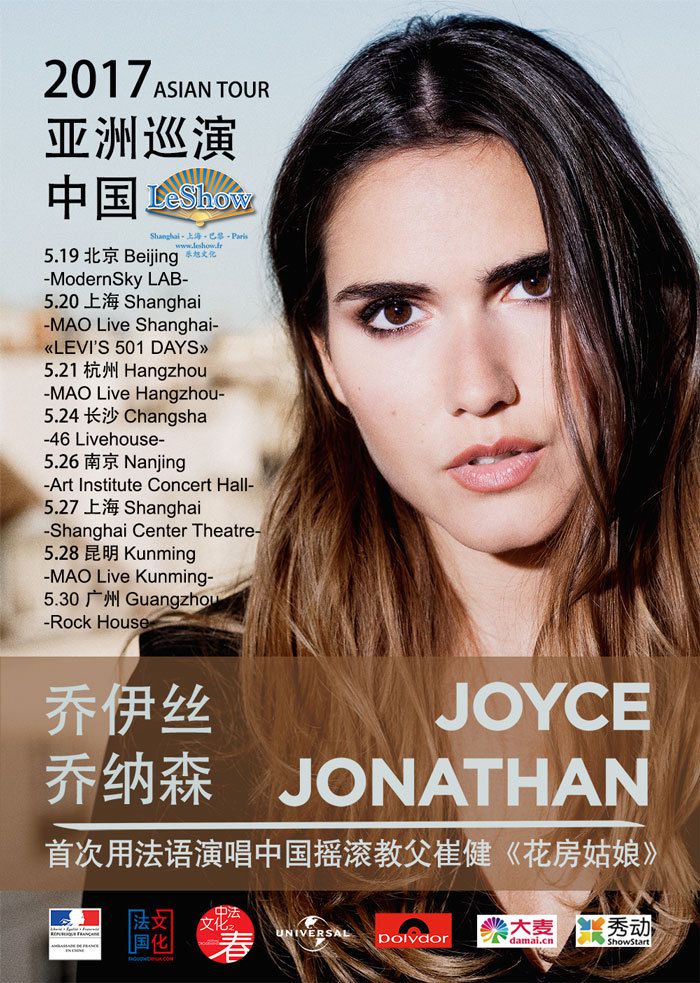 如今的法国女孩
--- 乔伊丝·乔纳森
作词家、作曲家、编曲家,今年刚满27岁的法国歌手乔伊丝·乔纳森将于2017年5月重返中国舞台,为广大中国歌迷亲身演绎她的经典歌曲《ça ira (在一起)》、《Caractère (个性)》以及新专辑《Une place pour moi (幸福位置)》中的热门歌曲《Les filles d'aujourd'hui (如今的女孩)》、《 Le bonheur (幸福)》等。
7岁开始写歌,16岁发表第一首作品,18岁签约唱片公司My Major Company,22岁获得法国NRJ音乐大奖和白金唱片,这位年轻美丽的法国女孩还将专辑中的歌曲翻译成中文,一经问世便稳坐香港和台湾地区专辑销售榜榜首。
亲情、爱情、友情,乔伊丝用音乐讲述世间所有真挚美好的情感。自2011年6月首次在北京进行演出以来,乔伊丝以清脆动听的嗓音和浪漫随性的曲风深深吸引了中国武汉、上海、沈阳、大连、广州等城市无数歌迷的心。出于对中国文化的热爱,乔伊丝最大的梦想是"学好中文""发行全中文专辑""能够用中文主持全场演唱会",并曾将多首中文歌曲翻译成法语进行演唱。
此次巡演乔伊丝将首次用法语为大家演唱中国摇滚教父 崔健 的经典歌曲《花房姑娘》!
Joyce Jonathan is only 27 years and has already a beautiful musical career behind her. Revealed on the web, this young artist, author, composer and interpreter has released her first album 'Sur mes gardes' in 2010 which quickly became platinum.
Her first two albums were
released in Hong Kong and Taiwan with singles in mandarin. (Warner Music and Universal) As soon, the two albums have been at the head of the radio charts and sales figures are consistent for the territory.
Joyce Jonathan had some China tours in Beijing, Shanghai, Wuhan, Dalian, Fuzhou, Shenyang, Guangzhou… in last few years. This year she will return to China for a tour in May to share her new songs with her favorite China public.
And this time Joyce Jonathan will sing the song named <Greenhouse Girl> of the China's grand rocker Cui Jian in French version !
Tour Dates/巡演日程:
5.19 北京 Beijing -ModernSky LAB- >>Tickets/购票<<
5.20 上海 Shanghai -MAO Live Shanghai- <LEVI'S 501DAY>
5.21 杭州 Hangzhou -MAO Live Hangzhou- >>Tickets/购票<<
5.24 长沙 Changsha -46 Livehouse- >>Tickets/购票<<
5.26 南京 Nanjing -Art Institute Concert Hall- 南京艺术学院音乐厅 >>Tickets/购票<<
5.27 上海 Shanghai -Shanghai Center Theatre- 上海商城剧院 >>Tickets/购票<<
5.28 昆明 Kunming -MAO Live Kunming- >>Tickets/购票<<
5.30 广州 Guangzhou -Rock House- 广州中央车站 >>Tickets/购票<<